This post is compensated and sponsored by California Walnuts.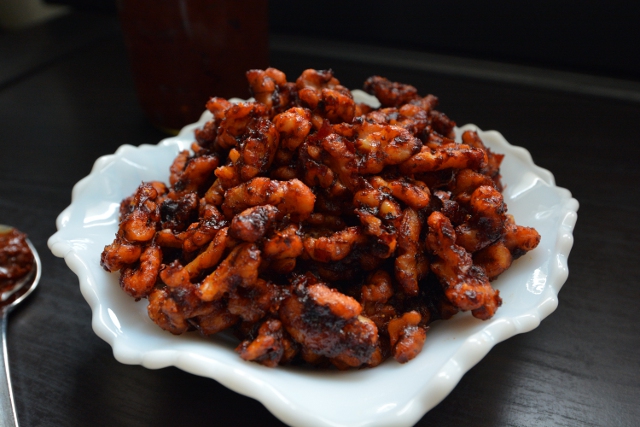 For us there are a lot of must have dishes at Thanksgiving. However, not always being the head chef, which is silly because I am great at everything food, means that I have to think of foods to contribute to a partly planned meal. Depending on who is cooking, this means, I want something that is simple and I can make ahead of time while also providing great flavor and nutrition.
The balance can be tricky. I want a great appetizer that has great flavor but also will help me get some protein in case a familiar whisper goes around: "Have the bread". So, the choice is easy to make because walnuts are the only nut that provide a significant amount of plant-based omega-3 fatty acids (2.5 grams per serving) and just an ounce provides a convenient source of protein (4 grams) and fiber (2 grams). Which means even if I'm pretending to eat everything while having a lot of bread, California walnuts have got my back. I can hold out long enough until pie.
Not to forget that walnuts are a family favorite. We had a walnut tree when I was growing up. Which is no surprise as walnuts are the oldest known tree food, dating back to 10,000 B.C. Walnuts have been cultivated for over millennia. I've fond memories of my Mom attempting to teach me how to perfectly crack and get the whole walnut out each time. The dog was never really that impressed but I forgave her and shared anyhow during necessary practice sessions.
While we had them fresh, we also kept them in the freezer. A fact that is ingrained in me since I could open the freezer. Your California walnuts will stay fresh and tasty in the cold so if you're planning on keeping them and managing not to eat them all within a month, you should store them in the freezer. Store them in an air-tight container away from foods with strong odors. Hopefully in an easy to reseal container for those small hands to manage. I'm just saying it's smarter because even at the age of 5, I wanted those walnuts, so you might as well ensure that they remain fresh and sealed if partly depleted.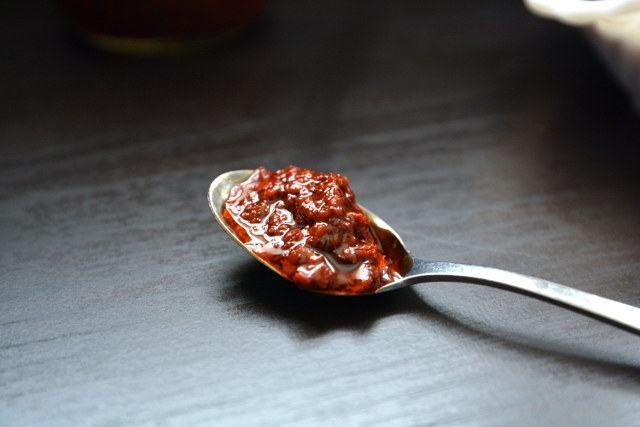 California walnuts account for 99 percent of U.S. production and three-fourths of world trade. Meaning there are plenty of fresh nuts to be found at your local grocery store. You can pick up most bags and find California walnuts inside. That means even if you're new to harissa you can be certain that if it is not quite to your taste the walnuts will still be delicious. You can experiment with the flavors of roasting walnuts and seasoning them. For example, even though we're going savory with harissa we could sprinkle sweet or salty on the top. We went for some granulated honey which you can find at most grocery stores. The end result will be different and bring out either the sweet or savory flavors depending on what you add. We've tailored this harissa recipe to our personal tastes with milder chiles so that everyone in the family will enjoy this recipe.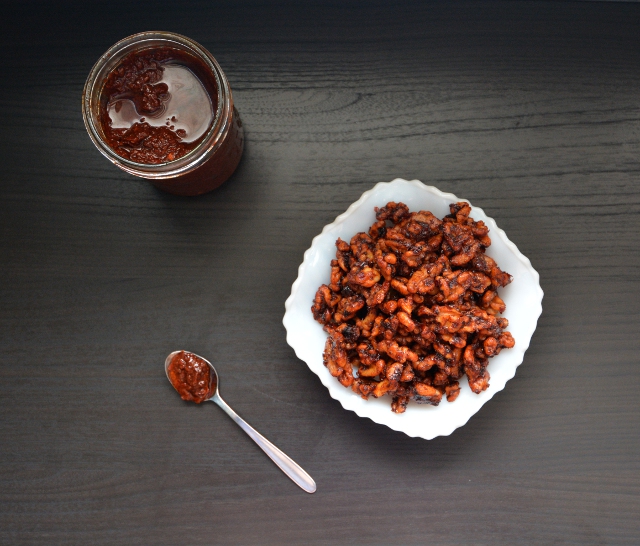 To learn more about California Walnuts you can connect with them on facebook, twitter and instagram.
Ingredients
Harissa paste

1 large bell pepper fire roasted
2 oz guajillo chile
2 oz pasilla chile
1/2 tsp caraway seeds
1/4 tsp cumin
1/4 tsp coriander
3 cloves garlic
1 tsp kosher salt
2-3 Tbsp extra virgin olive oil
1 tsp lemon zest
Juice of 1 lemon

Harissa Roasted Walnuts

2 cups walnuts
3 Tbsp maple syrup
3 Tbsp harissa paste
Sprinkle with honey crystals (optional)
Instructions
Harissa Paste

Fire roast your pepper over the stove you will probably want tongs and a skewer to keep it from slipping.
Soak your chili peppers for 20 minutes in hot water to reconstitute them.
Toast your caraway, cumin and coriander in a small pan until fragrant about 2-3 minutes. You will need to stir to keep them from burning.
After toasting grind your spices, you can use a coffee grinder, 3-4 pulses.
Peel your roasted pepper and chop.
Chop and remove seeds and ribs of chilis. You can control the level of heat by how much you remove.
Add everything into the food processor except olive oil. Blend together while streaming in olive oil. You may not need more than 2 tablespoons. You will want to scrape down the sides at least once to ensure everything mixes.
You can store in the fridge. I've used a pint mason jar. It will make roughly a pint of harissa which you can top with olive oil to keep fresher.

Harissa Roasted Walnuts

To make your roasted walnuts you just toss with the harissa paste and maple syrup. When they're coated you spread them on parchment paper. You can sprinkle the honey powder on top.
Bake at 350ºF for ten minutes.
Stir them and set for ten minutes. Depending on your oven you may want to turn down the heat.
Mine only took 15 minutes but yours make take longer. Tasting is necessary to determine if they're roasted.
https://rosiediscovers.com/2015/11/harissa-roasted-walnuts.html